Real Women of Genius
Eleanor Roosevelt
The ugly duckling
The biographer of the subject of this Real Women of Genius interview wrote that annually she would visit a women's prison called Alderson.  She'd come back and write notes like 'I could have been any one of the women on the inside.'
Eleanor Roosevelt was the niece of Theodore Roosevelt, the 26th United States President.  She was described by her attractive mother and aunts as the ugly duckling of the family and, not surprisingly, in her early years was extremely shy.
Although she could not boast academic distinction, and neither had she been a statesman, Eleanor Roosevelt was chosen to chair the committee that drew up the Universal Declaration of Human Rights.

Question
Eleanor, the early deaths of your parents led to your move to England?
Answer
My mother died from diphtheria when I was only eight and then my father died around two years later from alcohol poisoning.
My maternal grandmother took care of me and I received private tutoring.  It wasn't until I was 15 that I was sent to boarding school in England.  There I learned the French language and one of my happiest moments was when I was selected for the hockey first-team.
Question
When did you return to the United States?
Answer
After two years.  It was necessary to do so in order to make my debut into society, and it gave me an opportunity to work with those less fortunate than myself.
Real Women of Genius – Marriage and Family
Question
When did you meet your future husband?
Answer
1902.  Franklin Delano Roosevelt was my father's fifth cousin once removed.  We married in 1905.  We had six children although Franklin Jr died when he was only a few months old. 
Question
Could you tell us a little more about your marriage.
Answer
There were difficulties.  Franklin's mother had been opposed to our marriage from the very beginning and did her best to scupper the engagement. 
We settled in New York next door to my mother-in-law who I found to be controlling and I felt she was more concerned with the upbringing of our children than I was.
Towards the end of the first world war, I discovered that Franklin was having an affair with his social secretary, Lucy Mercer.  I contemplated divorce. 
At that time my mother-in-law threatened to cut off Franklin's financial security, Franklin pleaded for reconciliation and we remained married, although from there on it became more of a political partnership.
Real Women of Genius - Politics
Question
Your husband was actively involved in politics and was nominated as Democratic vice-presidential candidate, wasn't he?
Answer
That was for the 1920 presidential election.  James Cox ran for president but the Republican candidates were elected.
Question
Then there was a serious setback?
Answer
I believe you are referring to Franklin's illness.  He contracted polio and was paralysed from the waist down.
Question
What happened after that?
Answer
I encouraged him to remain in politics.  He was elected governor of New York in 1928 and became the 32nd United States President in 1933.
Real Women of Genius – Public Engagements
Question
You haven't told us about the part you played in that?
Answer
During my husband's illness, I frequently stood in at his public engagements and reported to him afterwards.  I also taught for a while at a girl's finishing school for three days a week until Franklin was elected President when it was necessary to terminate that arrangement.
Question
Were you happy at the prospect of become the First Lady?
Answer
At first I found the idea somewhat depressing, but Franklin supported the idea that I should continue speaking actively.
Real Women of Genius - Controversy
Question
You, of course, had not been elected.  Did that role create controversy?
Answer
In some quarters, yes.  I was deeply concerned about ordinary working people following the Depression and I did my best to speak up for better housing and healthcare.  I felt particularly for women, many of whom were isolated and trapped domestically.
I did my best to influence the national mood although I was well aware that I had not been elected to any office and it was necessary to walk a tightrope, so to speak.
Segregation was also an issue about which I felt strongly.  I felt it should be dismantled and I supported the Civil Rights Movement strongly.  I invited many African Americans to the White House as guests which was a break with tradition.
Question
What about the press?
Answer
I had my own newspaper column and I wrote magazine articles.  Of course, there were also the press conferences.  I used all these methods to get my message across and I dealt extensively with women's issues.
Question
Isn't it right that your moods were not always bright?
Answer
Whose are?  We are all in need of a little help at times.  I confess to having what I have described as "Griselda" moods but I found a little psychology helped get rid of the depression.  It is also good to remember that no-one can make you feel inferior without your consent!
Real Women of Genius – Second World War
Question
You were also active during the Second World War?
Answer
Again, I did my best.  I was talked out of working with the Red Cross in Europe but fought at home for refugee status for Jewish refugees.  I also sought greater roles for women in the war effort and pleaded for all, no matter from what social background they came, to become involved.
Question
Franklin was US President for 12 years?
Answer
Until he died from a brain haemorrhage in 1945.
Real Women of Genius – United Nations
Question
That same year President Truman sought your assistance?
Answer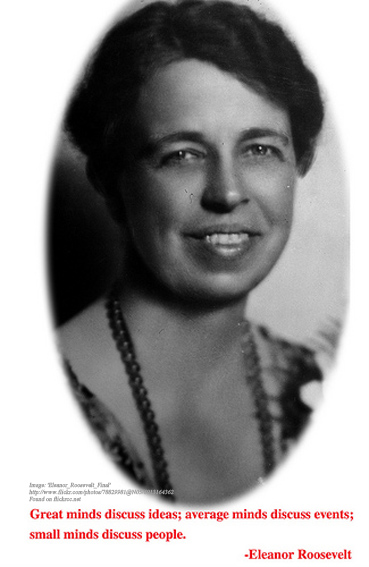 I was sent as a delegate to the United Nations General Assembly and later became chair of the Commission on Human Rights.  The idea was to draw up a modern charter to protect vulnerable people and do all we could to avoid future conflict.
Question
The Universal Declaration of Human Rights came into force in 1948?
Answer
Indeed it did.
Question
Much later, in 1961, President Kennedy appointed you to chair the Presidential Commission on the Status of Women, but you died just before it issued its final report?
Answer
That was on 7 November 1962 when I was 78. 
Real Women of Genius – Life's Mission
Question
How would you sum up your life's mission?
Answer
I was asked the question Where do human rights begin?  I think the answer I gave then sums up my mission.
In small places, close to home – so close and so small that they cannot be seen on any maps of the world.  Yet they are the world of the individual person; the neighbourhood he lives in;  the school or college he attends;  the factory, farm or office where he works.
Such are the places where every man, woman and child seeks equal justice, equal opportunity, equal dignity without discrimination.
Unless these rights have meaning there, they have little meaning anywhere.  Without concerted citizen action to uphold them close to home, we shall look in vain for progress in the larger world.
Keep your eyes open for more Real Women of Genius as they are added to this site and look also at Real Men of Genius for further examples.
Read Modelling Genius and remember also to see where you can identify the talents of these people within yourself.  You will have them all.  You may just need to search a little:
---
Gain FREE access to my self-confidence video
To gain free access to my self-confidence video enter your email address and first name in the box below.  This will also keep you up-to-date with my free newsletter Inspirations.
As a bonus for subscribing you'll receive the first three chapters of my book Towards Success, where you can learn more about NLP techniques, from Anchors to Modelling, and my 50 favourite inspirational quotations.
---
Return from Real Women of Genius - Eleanor Roosevelt - to
The Secret of Mindpower & NLP Home

---
Return to Site Search & Contents Page
---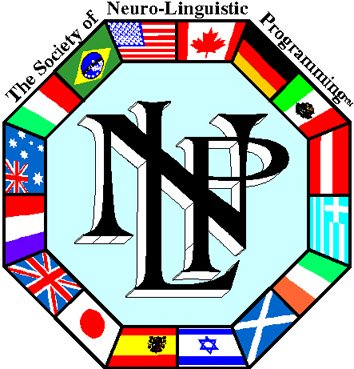 ---