Real Men of Genius
Rembrandt Van Rijn
Foremost European painter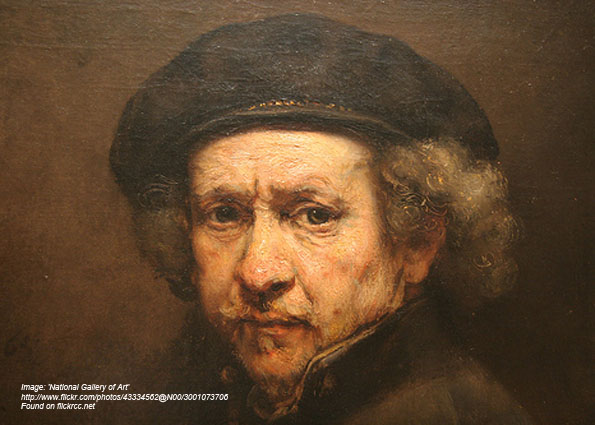 Rembrandt appears in real Men of Genius as one of the foremost European painters.  He was born  to a middle class family in Leiden, Netherlands, in 1600.
Netherlands in the 17th century
Question
Tell us what it was like in the Netherlands during your early life.
Answer
The country was doing very well at that time.  There was a pride in our achievements.  We had defeated Spain and had emerged as our own country with an empire in the Indies and America.
Economically, our power was evident in New Amsterdam – although that was later renamed New York – to as far away as what is now known as Tasmania, although then it was called Van Diemen's land.
In the space of just two generations the Netherlands had become a world empire and the populous in general shared in that prosperity.
Question
Was food plentiful around then?
Answer
I think we enjoyed a very good diet with plenty of fish, meet and fresh vegetables.  We were well fed. 

I think the primary reason for this was the pivotal position of our two great ports of Amsterdam and Rotterdam and the control of grain.
Rye, corn and wheat was stored in enormous granaries and we therefore did not suffer food shortages like the rest of Europe.

There were also imports of the more exotic fruits and spices.  All this led to a happy population which was not disturbed by riots such as were seen elsewhere.
Real Men of Genius - family
Question
I believe you were born into a large family?  Did that hamper your education in any way?
Answer
I was the ninth child.  My father was a miller and we were quite well off relatively speaking.  I  had a classical education at the local Latin school, studying History, Maths, Geography and the Classics. 
In due course, I went on to University at Leiden.  I think though that I was always inclined towards painting.
Real Men of Genius - painting
Question
Who was your mentor in that respect?
Answer
I had the good fortune to serve a short apprenticeship with the highly regarded Pieter Lastman of Amsterdam. 

I learned the method of using only one light source from Pieter which enabled the scene I was painting to convey greater dramatic intensity.
Real Men of Genius - etching
Question
Of course, you didn't only paint, did you?
Answer
No; by then I had also begun to etch.  The light and dark which is also associated with my paintings (known as the tenebroso) was developed alongside my work with etchings.
Question
What was the next step?
Answer
I spent around six months with Pieter Lastman before returning to Lieden and starting work as an independent painter.  I also took my first two students.
Real Men of Genius - Commissions
Question
Was that successful?
Answer
The success was pretty quick.  The writer Constant Huygens lauded my work.  He was also secretary to Prince Frederik of Orange. 

The prince thereafter commissioned from me seven paintings on the passion.
Question
Were you paid well for that?
Answer
Not as much as I might have been.  I had to apologise to Huygens for the delay in delivering The Entombment and The Resurrection.  
I wrote to him: In these two pictures, the greatest and the most natural emotion and animation have been observed, which is also the principal reason why they have been so long in the making.
Real Men of Genius - Marriage
Question
What about marriage?
Answer
I was married in 1634 to Saskia.  By then I had formed a business association with Hendrik Uylenburgh who ran a painter workshop. 

We went into partnership and I and my students produced portraits and other small historical paintings.
I moved to Amsterdam and for me this was a very good time financially.  In Amsterdam my first major commission was The Anatomy Lesson of Dr Tulp.
To return to your question, Saskia was Hendrik's cousin, and she had a large dowry.  We had a son and two daughters who, regrettably, did not survive for very long, but our son, Titus, was born in 1641.
Question
You continued to teach and paint?
Answer
By then I had a large studio, and I housed my students in an adjacent building.  It was probably my best time. 
Real Men of Genius - Amsterdam
Question
Amsterdam was the centre of the art market at that time?
Answer
Yes.  Raphael's portrait of Castiglione came up for auction around that time and I tried for it but failed. 

So I made a quick sketch and gave the picture my own features.  Later I based two of my self-portraits upon it.
Question
You made very many self-portraits, didn't you?
Answer
Yes, but not as many as others think because I used to set my students to work copying them, and I believe some were later attributed to me.
Question
The most important picture during this period was The Night Watch, wasn't it?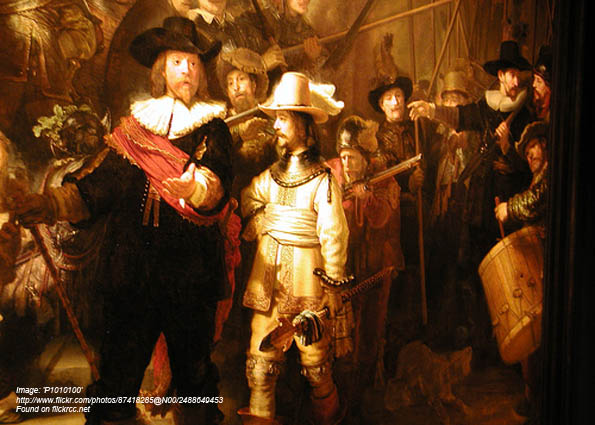 Answer
Yes, but sadly that was the same year that I lost Saski at the age of 29.
Question
Did you lose your popularity as a portrait painter after this?
Answer
Certainly not as a result of this.  The picture was, I understand, greeted as a success from the outset. 

Some people have observed that too many characters are in the shadows and are difficult to identify.
Real Men of Genius – financial difficulties
Question
There came a time when you experienced some severe financial difficulty?
Answer
I was prone to overspend, and it was necessary in 1656 to sell most of my paintings to avoid bankruptcy. 
My house also had to go and I moved to a smaller place.  Hendrickje Stoffels, who had joined me as a maidservant, and my son Titus set up a business which employed me.

I did not have to worry about the business responsibilities after this.
Hendrickje died in 1663 and in 1668, my dear son Titus who had just married, also died.  After this I painted The Return of the Prodigal Son.
Question
You died on 4 October 1669 in Amsterdam and were active until the end of your life?
Answer
I learned, I believe, that it is only ourselves we truly know.  I always had much energy and worked tirelessly.
Keep your eyes open for more Real Men of Genius as they are added to this site and also look at Real Women of Genius for further examples.

Read Modelling Genius and remember also to see where you can identify the talents of these people within yourself.  You will have them all.  You may just need to search a little:
---
Gain FREE access to my self-confidence video
To gain free access to my self-confidence video enter your email address and first name in the box below.  This will also keep you up-to-date with my free newsletter Inspirations.
As a bonus for subscribing you'll receive the first three chapters of my book Towards Success, where you can learn more about NLP techniques, from Anchors to Modelling, and my 50 favourite inspirational quotations.
---
Return from Real Men of Genius - Rembrandt Van Rijn - to
The Secret of Mindpower & NLP Home

---
Return to Site Search & Contents Page
---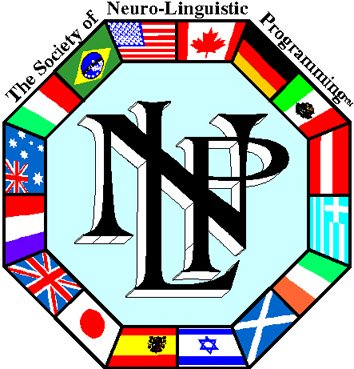 ---