NLP Techniques and Grief

The pain
NLP techniques for grief can help us tremendously because we never know quite how it is going to affect us when we lose a dear friend or loved one.

---
To fear death, my friends, is only to think ourselves wise, without being wise: for it is to think that we know what we do not know
Socrates
---
Sometimes it feels as if some physical part of us has been torn away and it can leave a painful empty feeling. 

Or, in our mind's eye, when we look into the future there is an emptiness. 
We may just want to touch that person again. And sometimes it just won't go away!
NLP Techniques and the guilt
There is also at times a feeling of guilt because although we wish the grieving to go away, we don't want to put that individual at the back of our minds or forget him or her. And it is not always a human being we mourn.

Some of us can suffer equally when we lose a cherished pet which may have been part of our family just like anyone else.
NLP Techniques and the grieving
It is natural that we grieve for a short period of time in order to come to terms with our loss. My parents died many years ago. 

I was very close to both of them and of course I grieved when they had gone. 
Very many years later I think of one or both of them almost every day, but I am no longer grieving. 
It would have helped me even more at the time if I knew some of the NLP techniques that I now know.
I sometimes wonder what they would have done in a given situation, imagine how they would have reacted to the more recent additions to our family or remember the very many happy times we had together.

The memories arehappy and positive ones.
Now is not the time for recrimination or to think "if only"; it is the moment to cherish the happy memories.
What is not natural or healthy, however, is when perhaps three or four years on someone is still grieving and cannot move forward. 
The griever is still making bad pictures in his or her mind.
What is more, the pictures are big, they are usually of the worst moments (perhaps lying dreadfully sick and suffering in a hospital bed), the pictures are played over and over again and the grief just gets worse.
NLP Techniques and the problem with blame
It is also not unusual for the griever to want to blame someone or almost anyone for the death of the loved one. 

Anyone who has worked in a hospital or health care environment will be familiar with the flood of complaints that arise when someone dies. 
The deceased may be a person of any age, even upwards of 90 years, and have suffered from chronic terminal illness before dying. 
But sometimes, totally irrationally, grief takes over and the family look to blame everyone connected with the care of their loved one.
NLP Techniques – not letting go
Janet had known John since they were young teenagers.  

John had been Janet's one and only love. John was still a young man when he underwent investigations for stomach problems. 
Cancer of the stomach was soon diagnosed and it was clear he had only a few months left. 
The surgeons did what they could to prolong his life, but ultimately he was placed on an end of life care path.
Janet was desperate and distraught. She spent much of her time on the internet researching cancer of the stomach. 
She copied huge chunks from documents and sent them to the doctors. 
She sought alternative therapies. But all was to no avail. 

It was unfortunate that she was not introduced to NLP techniques at that time.
The time came when the doctors could do no more and John was sent home.
The district nurses came in daily to attend to his needs. 
Indeed, Janet constantly called them and demanded that they do this, that or the other. 
On his last day, when he was in some pain, Janet again called the nurses. 

She was desperately upset. Moments before he died John said to her, "Janet, I am dying.
"You have just got to accept that." Then his eyes closed. He was just 39 years old.
Janet was beside herself and blamed the nurses for not doing more to sustain John's life. 

She was to say later, "When John said I am dying, he didn't mean now." 
Janet could not accept reality and neither did she allow herself to grieve. 

She wrote to the hospital and complained about his treatment there. 
She wrote to the doctors' professional regulator and complained about his mistreatment and their failure to keep him alive. 
She wrote to the nurses' regulator and complained about their mistreatment and that they had permitted him to die.
NLP Techniques – complaining is not the answer
The hospital carried out an investigation but could find no evidence of mistreatment. 

They even set up an independent inquiry which found that John's treatment by all the health professionals involved was exemplary.
Each of the professional regulators made their own investigations and found that nothing could have been done to save John.

Over four years later Janet still pursued her complaints. She appealed to higher bodies to investigate her husband's treatment before his death. 

She did not permit herself to grieve in the normal way or come to terms with the death of the one she loved so dearly. 
You might think it is not what John would have wished for her and when he said "Janet, I am dying; you have just got to accept that" he was trying to tell her so.
Sometimes it is said that the price of love is grief. If there was no grief we never truly would have known love. But it does not mean we can never move on.

Think to yourself: can I be thankful that this wonderful person lived and touched my life so deeply, or would I prefer that this person never lived at all?

NLP techniques may not banish grief but they will help to diminish it and they will help you to move on with your life and honour the life of the one you loved and now miss so much.

Notice the word honour. You will not honour the life of the one you loved if you allow your natural grieving to descend into a constant state of self-pity, and neither will you honour yourself or your own life.
NLP techniques and disrupting the neural pathways
So when those large, sad pictures come into your mind, drain the colour out of them, shrink them in size and send them off into the distance until you can see them no more.

Every time they come back and intrude into your thoughts, do it again. 

Make the picture black and white and then turn an imaginary knob and drain the image until it is completely white, shrink it and send it off into the distance until it explodes into tiny pieces. 
Do it again and again. Do it as many times as it is necessary. This will help to disrupt the neural pathways and ease the feeling.

Now you have done that you need to replace the bad pictures with good ones. 

Think of the happiest, or some of the happiest, times you enjoyed with your loved one.  
See the picture in your mind's eye. Make it full of colour. 
Then brighten the colour. Make the picture twice as big. Then double it again. Make it fill the room. See what you saw at the time. Hear what you heard. Recall the feelings you had. 
Keep doing this. Blot out the bad pictures with the good ones. Reinforce the good memories.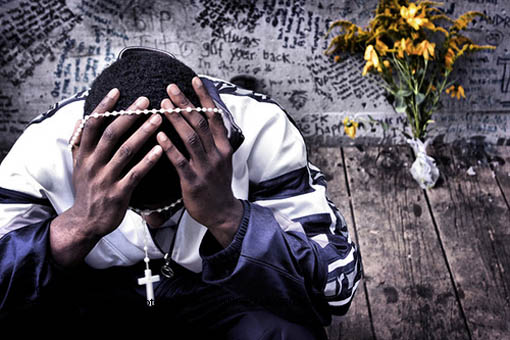 NLP techniques - Anchors
If you have not done so already, you might like to consider reading the page on Anchors where you can learn how to set good anchors and dissolve bad ones.

You can learn to anchor good feelings and good memories either while they are happening or by recalling them vividly.
You can then recall them instantly when you need a boost. 
Equally, you can learn to dissolve what we call "bad" anchors, which may be bad memories, and replace them with good ones.
NLP techniques – the good and the bad
Another technique you might like to try is to make a list of all the things you will not miss about your loved one. We all have bad habits, for example, or grumpy moods, little irritations. Be honest.

Write them down and be glad those things will not happen again. 
Then write down all the good traits about your loved one, all the things you think you will miss. 
Then, over the coming months, observe carefully those close to you, other members of the family and friends perhaps, and see where those good traits start to emerge in other people around you. You may be amazed. 

The human body may perish but the traits live on.
Now look at How to deal with grief and keep reading the pages on this website.  
From time to time you should find a number of techniques which will help you come to terms and deal with your grief.
---
Gain FREE access to my self-confidence video
To gain free access to my self-confidence video enter your email address and first name in the box below.  This will also keep you up-to-date with my free newsletter Inspirations.
As a bonus for subscribing you'll receive the first three chapters of my book Towards Success, where you can learn more about NLP techniques, from Anchors to Modelling, and my 50 favourite inspirational quotations.
---
Return from NLP techniques - grief to
The Secret of Mindpower & NLP Home 
---
Return to Site Search & Contents Page
---