Real Men of Genius
Antoni Gaudi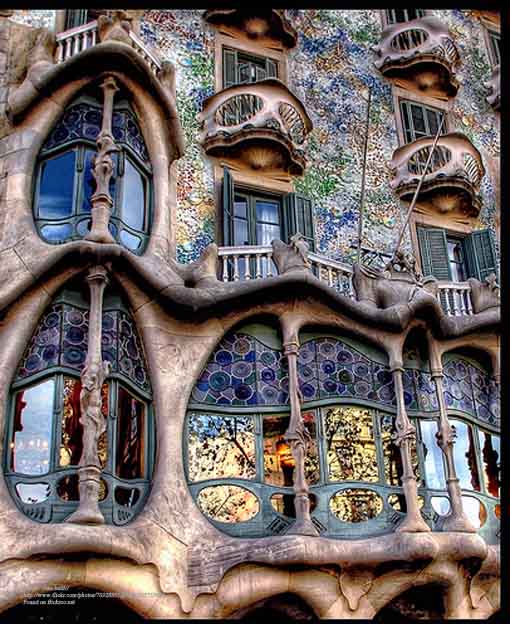 An astonishing Catalan
This brief Real Men of Genius interview with Antoni Gaudi, celebrates the Catalan's astonishing achievements and the amazing contribution his works have made to the city of Barcelona.
Question
Senor Gaudi, there are so many of your great works that we could discuss, but perhaps we had better start at the beginning.  Could you tell us when and where you were born, please, and a little of your family background?
Answer
I was born in Reus, Catalonia, on 25 June 1852, the youngest of a family of five.  Only three of us survived until we were adults, and even then my brother, Francesc, died at 25.  My mother died around the same time.
Real Men of Genius – the architect
Question
You studied a number of subjects, but principally architecture, as I understand it?
Answer
Yes, I also studied French, history, economics, philosophy and aesthetics.  I graduated from the Barcelona Architecture School where they didn't really know what to make of me.  The comment was made when I left that I was either a fool or a genius!
Question
In 1878 you became involved in your first important project, didn't you?
Answer
Yes, that was the Casa Vicens.  I was 26 then.  It was a summer residence on the outskirts of Barcelona.
Real Men of Genius – friend and patron
Question
Wasn't it around that time that you met Eusebi Güell who became your friend?
Answer
Yes, and patron.  He commissioned me with the furniture for his father-in-law's family vault.  That was the Marquis of Comilla.
Real Men of Genius – Sagrada Familia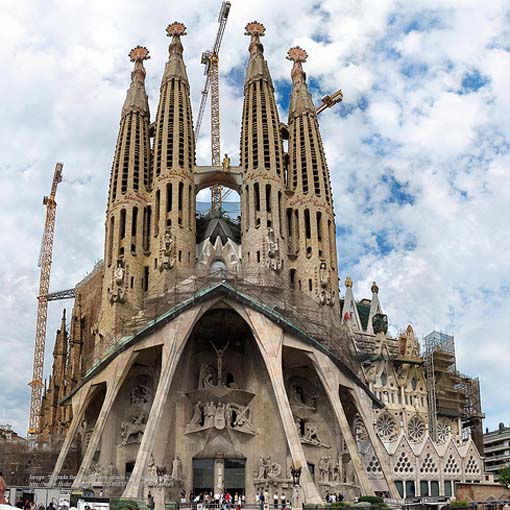 Question
Your major work, to which you devoted 43 years (almost the whole of your working life) was, of course, the Sagrada Familia.  You were commissioned as the principal architect in 1883. Tell us a little more about that.
Answer
Although it was commenced all those years ago, you will know that it is still not complete to this day.  It has three facades dedicated to the birth, passion and glory of Jesus. 
Ultimately, it will have eighteen towers:  twelve for the apostles, four for the evangelists and one dedicated to the Virgin Mary.  The central tower which will be 170 metres high will honour Jesus.
Question
It has been described as the eighth wonder of the world in the making and we are told that even in its unfinished state it attracts over a million visitors a year.  It is hoped that the project will be completed by 2030 which is over 100 years after your passing.
Answer
Yes, depending on funding, but bear in mind that construction came to a halt for 20 years during the Spanish Civil war. In any event,  time is only of importance to the living!
Real Men of Genius – love of nature
Question
It is said that your love of nature is visible in the Nativity façade.
Answer
Indeed.  There are up to a hundred plant and animal species sculpted into the stone, and the two main columns are supported by turtles.
Question
In a short interview of this nature, we can only touch on some of the principal features, but tell us about the nave.
Answer
This enormous central body of the temple – again, still in progress – comprises leaning, tree-like columns with branches spreading out across the ceiling, so it has the overall effect of a stone forest.
Question
The crypt is ringed by a series of chapels?
Answer
Yes.  One of which now houses my own tomb.
Real Men of Genius – Park Güell
Question
Let us talk about some of your other works.  How did Park Guell come about?
Answer
My friend Eusebi acquired more than 17 hectares of land of an old farmhouse on the city outskirts in 1899 with the idea of constructing a housing development of detached properties for wealthy families. 
It was felt at the time that our creative ideas were excessive and inappropriate for the economic circumstances. 

But although the original project failed, I had by that time finalised the common zones, and it was transformed into a municipal public park in 1922 and remained that way ever since.
Question
Paradoxically, perhaps, it has meant that generations have since been able to enjoy one of your greatest works?
Answer
I suppose that must be so.
Question
Would it be appropriate to describe the park as a synthesis of tradition and progress, do you think?
Answer
We endeavoured to provide a detailed plan of symbolisms that would put Park Güell into the historical context that Barcelona was experiencing.  We wanted to reconcile the current situation with ancestral traditions of Christian Catalonia.
The majority of symbols on the stairway represent the cultural character of the project, and the highest sections are reserved for religious symbols that culminate, of course, with the three crosses of calvary.
Question
How long was the park in construction?
Answer
Fifteen years.  The large city that lay at its feet represents earthly life, whilst the park itself represents paradise.
Real Men of Genius - trencadis
Question
Your use of trencadis, or broken, tiling – conspicuous throughout your work – was quite revolutionary, wasn't it?
Answer
Unique, I think.  It was a decorative art form that required smashing up ceramics and piecing them back together in mosaic patterns.  You will see plenty of it at Park Güell. 
You will see other lovely examples of this technique, in my view, on the rooftop of La Pedrera.  Some of the chimneys there were tiled housing hundreds of broken cava bottles.
Question
We could talk for a long time about your very many remarkable creations in the park, but I am afraid we must bring this interview to a conclusion shortly. 
Answer
Thank you.  We haven't had time to talk about the giant mosaic reptile which we put there to act as the park's guardian.  It emulated the figure of the Greek mythological dragon.
Real Men of Genius – La Pedrera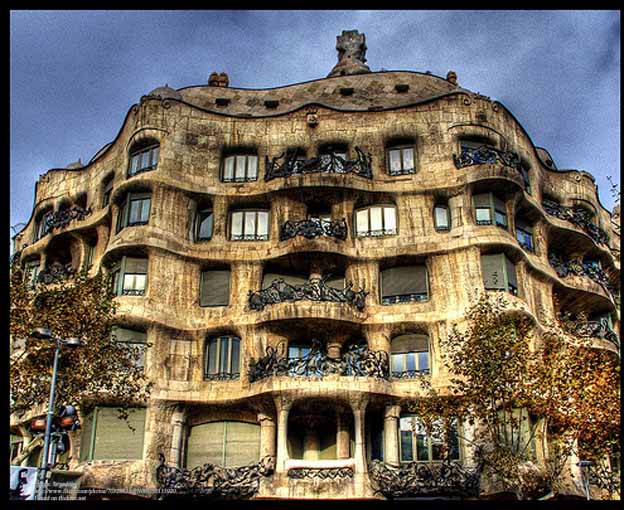 Question
A quick word, perhaps, about La Pedrera.
Answer
That was work I undertook for Pere Milà and his wife.  I built two blocks of apartment houses with separate entrances around two large interconnecting interior patios. 

The structure of the building rests on pillars instead of using weight-bearing walls.  That allows for independent floors with large apertures in the façade. It was regarded as a bit way out at the time.
Question
I am afraid we have managed only to touch upon some of your major achievements during this conversation.  Your best friend, Eusebi, died in 1918 and, I think some years later, you moved into your study in Sagrada Familia?
Answer
Yes, but that wasn't until 1925.
Question
And it is recorded that you died at the age of 73 on 10 June 1926?
Answer
Yes, I was taking my usual daily walk to church a few days earlier when I was knocked down by a tram and became unconscious.  A policeman took me to hospital but my condition deteriorated and they couldn't save me.
Keep your eyes open for more Real Men of Genius as they are added to this site and also look at Real Women of Genius for further examples.

Read Modelling Genius and remember also to see where you can identify the talents of these people within yourself.  You will have them all.  You may just need to search a little:
---
Gain FREE access to my self-confidence video
To gain free access to my self-confidence video enter your email address and first name in the box below.  This will also keep you up-to-date with my free newsletter Inspirations.
As a bonus for subscribing you'll receive the first three chapters of my book Towards Success, where you can learn more about NLP techniques, from Anchors to Modelling, and my 50 favourite inspirational quotations.
---
Return from Real Men of Genius - Antoni Gaudi - to
The Secret of Mindpower & NLP Home

---
Return to Site Search & Contents Page
---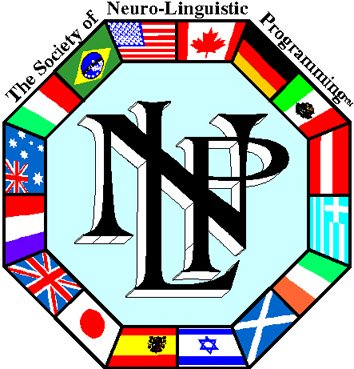 ---