Real Men of Genius
Leonardo da Vinci
Outstanding ability
In the pages entitled Real Men of Genius, we consider briefly the lives of men and women of outstanding ability who have made their mark in history or who have had more modest success in their local environments.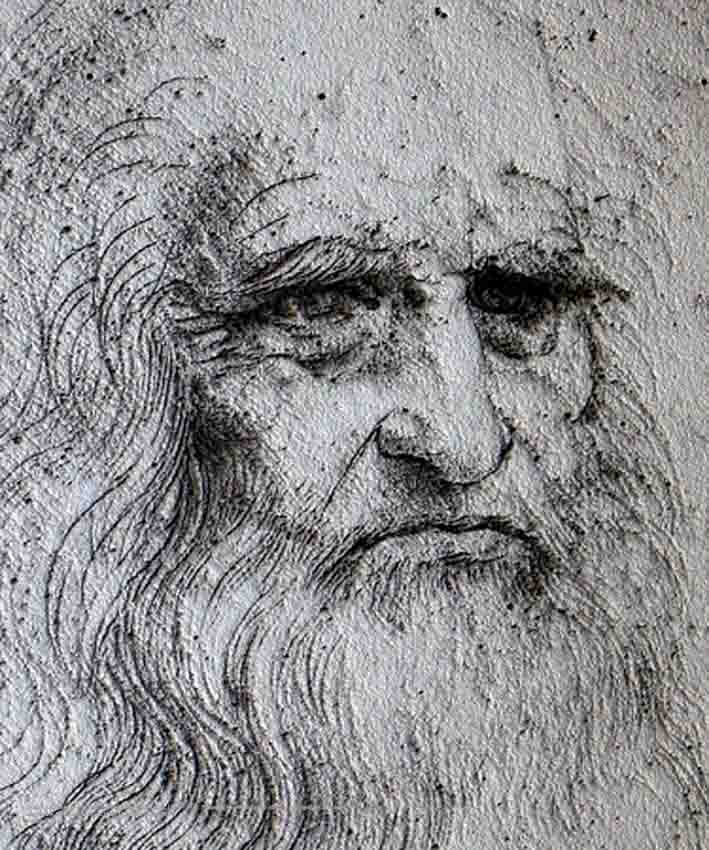 NLP techniques
The interview
Wherever they stand on the hierarchy of success, they are all achievers and are models for others to follow.  This is the sort of interview we would expect to conduct with the great Leonardo da Vinci if he were here today.
We hope it will stimulate you to consider your own talents and to find out more about the lives of these talented people so that you have a detailed model to follow yourself.

Question
Leonardo, would you start by telling us a little about your background.  Perhaps you could say when you were born?
Answer
I was born in 1452 in a little town called Vinci in Tuscany.  My mother was a humble peasant girl and I never knew my father.
Real Men of Genius - interests
Question
Tell us about some of your interests.
Answer
Where can I start?  There were so very many.  I had this enormous fascination with knowledge.  I really couldn't get enough of it.  Life really wasn't long enough for me.  There is so much to do and so much to discover and passing on at 1519 was a bit too soon.
I loved music.  I made musical instruments and played them.  Often I made up the songs and music on the spot.  These days I suppose you would describe me as a bit of a party animal because I liked making up stories and telling jokes.
Real Men of Genius – the desire for knowledge
Question
It is generally felt today that your desire for knowledge was insatiable.  Do you agree with that?
Answer
My goodness, yes.  Was there anything I wasn't interested in?  Not at all.  In fact, I made many thousands of pages of notes about my discoveries and some of my theories weren't confirmed until centuries later.
Real Men of Genius – starting out
How did your career get under way?
Answer
I started out in Andrea del Verrochio's workshop in Florence.  He was a goldsmith as well as a painter and sculptor.  I used to help out with some of his paintings. 

I experimented a lot with dark and light, and I really didn't think it was very good style to paint faces when the sunlight fell directly upon them.
Fashion was in those days to favour bright light and full colour, but I didn't think that did the subject true justice.  I preferred more soft, diffused light for my work and I set out some guidelines for that.
Question
Did you remain in Florence?
Answer
No, during my lifetime I travelled extensively.  I went from Florence to Milan.  While I was there I painted two versions of The Virgin on the Rocks.  I went to Milan to work for Duke Ludovico Sforza. 

He was impressed with my military engineering and sculpting skills.  I created an equestrian statue of the Duke's father but it hasn't survived.
Question
Did you enjoy any sporting activity or hobbies?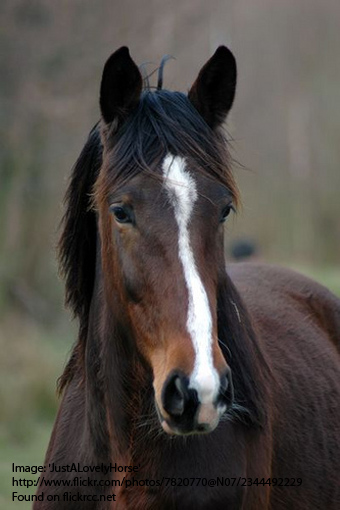 Answer
I was quite a horseman in my time, you know.  I trained the horses and kept my own stables.  It would be right to say that I was always fascinated with the anatomy of animals and I loved them all. 

So much so that when I was in the market place I often used to buy birds, and once I had ownership I would just let them fly away.
Real Men of Genius – greatest work in Milan
Question
What do you regard as your greatest work in Milan?
Answer
Oh, that would definitely be my painting of The Last Supper.  The difficulty was that the Milanese climate was a bit damp for it and it started to deteriorate before I died.  I am very glad to hear, however, that it was later restored and has survived all these years.
Question
Where did you go next?
Answer
I was commissioned to paint The Battle of Anghiari so it was necessary to move back to Florence.  Around that time I also painted The Mona Lisa – which I believe has proved to be quite popular through the ages – and the Madonna and St Anne.  They are now in the Louvre because I later took them to France with me.
Question
And after that?
Answer
Oh, it was back to Milan.  Not so much painting there, I'm afraid.  I carried out a lot of scientific research and concentrated more on my anatomical drawings.  It mean dissecting a lot of dead animals otherwise I couldn't have got the information I needed.
I liked to climb the mountains around there and examine the fossilised shells embedded in the rocks.  There was never a time when I didn't have enough to do because I also drew a few relief maps, although I didn't have any instrumentation, and I worked on some methods of irrigation and water transportation.
I always did my best to keep detailed notes in my books.  It was rather important that I did because I a designed war machines as well, and some concave mirrors which were the forerunner of the telescope.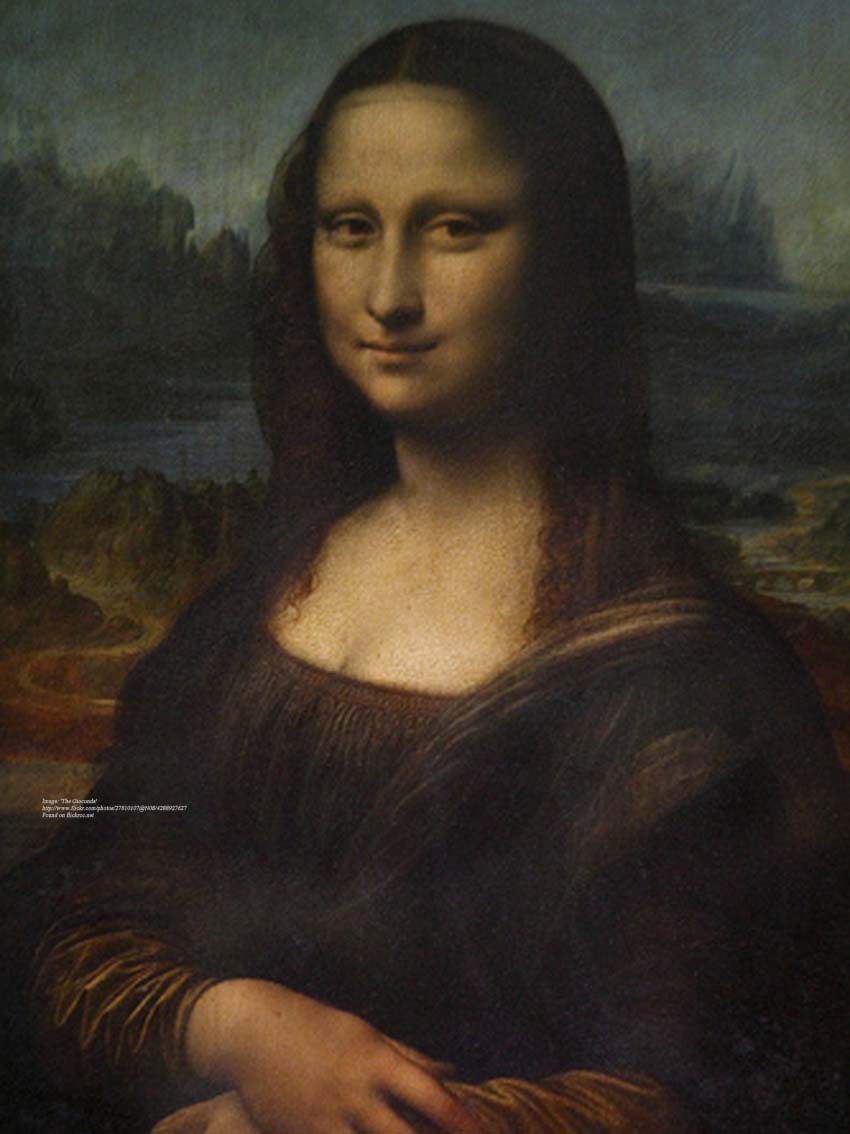 Real Men of Genius – the pope
Question
I understand you were quite popular with Pope Leo?
Answer
Yes, we got on rather well.  He very kindly gave me an apartment in the Belvedere and in return I made him some rather fancy presents.  It was quite amusing.  I remember making a pair of skin wings which I mounted on a live lizard to make it look like a dragon.
Real Men of Genius - frustrations
Question
What were your biggest frustrations, do you think?
Answer
Usually shortage of funds.  There was so much quarrelling and in-fighting going on at various times of my life that somebody would put up money for a project and before I had a chance to finish it the funding would be withdrawn. 

Then the whole thing wasn't finished and I was up a gum tree.  They tell me it's not much different in the world today.
Question
Where did you finish up?
Answer
The King of France was a treasure.  He gave me a little chateau near Amboise.  That is where I died.  The good thing about that is that I still had a few of my pictures with me and they ended up in the Louvre and they are still there.
Question
It may put you on the spot rather to ask this question, but what do you see as your greatest contribution?
Answer
I did my best to pass on the enormous knowledge I gained during my lifetime and it is all there in my notebooks.  I also believed – and still do – that the four principles for acquiring genius are: the study of art;  the study of science;  developing all your senses (and most especially your sight); and knowing and believing that as you are studying, everything connects to everything else.
Keep your eyes open for more Real Men of Genius as they are added to this site and also look at Real Women of Genius for further examples.

Read Modelling Genius and remember also to see where you can identify the talents of these people within yourself.  You will have them all.  You may just need to search a little:
---
Gain FREE access to my self-confidence video
To gain free access to my self-confidence video enter your email address and first name in the box below.  This will also keep you up-to-date with my free newsletter Inspirations.
As a bonus for subscribing you'll receive the first three chapters of my book Towards Success, where you can learn more about NLP techniques, from Anchors to Modelling, and my 50 favourite inspirational quotations.
---
Return from Real Men of Genius - Leonardo da Vinci - to
The Secret of Mindpower & NLP Home 
---
Return to Site Search & Contents Page
---