Real Men of Genius
Robert Burns
National Poet
Robert Burns takes his place in Real Men of Genius as Scotland's national poet. 

The Burns Night supper which began five years after his death has come to be a fixture on every calendar.
---
O my Luve's like a red, red rose
That's newly sprung in June;
O my Luve's like the melodie
That's sweetly play'd in tune
---
Early life
Question
Rabbie, you were born in 1759.  What can you tell us of your early life?
Answer
It was difficult, I can tell you that much.  We lived in a house built by my father in Alloway.  He was a tenant farmer. 

It was hard work in the fields in all winds and weather, and poverty.
My schooling was irregular and most of  the teaching I gained came directly from my father who encouraged me to read when I was very young.
My father died in 1784 and we then moved to a different farm, but life was still pretty tough.
Real Men of Genius – early writing
Question
How old were you when you started writing?
Answer
I must have been about 15 when I started writing verse, although I was still employed on the farm then.  
I was 27 before I sold the copyright for my first book, Poems Chiefly in the Scottish Dialect.
Question
Might I ask how much that realised?
Answer
One hundred guineas.  I had hoped to escape the farm and move to a climate that was much warmer, but as the book was so popular I decided it might be better to stay.  It wasn't long before I went off to Edinburgh.
I was well received there, and I met a young fellow writer, Walter Scott, who later wrote of me in very kind terms.
Real Men of Genius - marriage
Question
Among other things he described you as being extremely deferential to females.  You gained a certain notoriety with the ladies, didn't you?
Answer
That's certainly not for me to say.  It is right to say that I had a number of liaisons, if I might put it that way. 

My first child was Elizabeth, born in 1785.  At around the same time I had a relationship with Jean Armour who I later married.
Jean and I had nine children together but I am very sad to say only three of them survived to any age at all.
Question
In all you fathered twelve children, didn't you?
Answer
That is correct.
Real Men of Genius - Freemason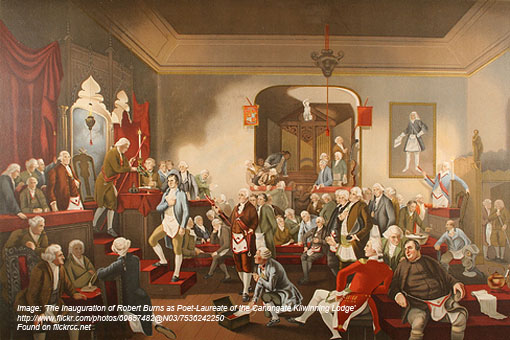 Question
You were initiated into Freemasonry at some stage?
Answer
On 4 July 1781 to be precise.  I was 21 years old.  Higher degrees were later conferred on me in recognition of my achievements. 

I was a regularly attender at other lodges as well as my own, and a very large number of my friends were freemasons.
Real Men of Genius - songs
Question
It is said that you knew how to play the violin and you also enjoyed a drink?
Answer
I knew how to have a good time I think you mean.  I wrote a few songs as well, you know.  
You will have heard of Auld Lang Syne, a little verse that I wrote and set to music.
I am delighted to know that it has become a Scottish custom to sing it regularly every year to celebrate Hogmonay. 

Indeed, I am told it is popular on New Year's Eve in other parts of Britain.
Question
Did this provide you with a regular enough income to support your family?
Answer
I regret it did not.  For a time I became an excise man and chased smugglers. 

My health wasn't as good as it might have been and riding a horse for many miles in all manner of weather, didn't help it much.
Question
Had you given up your farm by this time?
Answer
Yes; the income was insufficient to meet our needs.  Life was a little depressing at times. 
Question
When was Tam O'Shanter written?
Answer
1790.  It was set in Alloway Kirk.  It is a story all about Tam and was one of the longer poems I wrote.  
It is all about drinking, witches and warlocks.  It came out first in 1791 in Edinburgh Magazine.
Question
Would you describe yourself as a political animal?
Answer
Not really, but I could be a bit outspoken especially when I was depressed. 

Regrettably, I upset some of my friends by the way I advocated reform and for the sympathy I uttered about the French Revolution.
The church also upset me a little, for I suspected those involved to have double standards and said so.
Real Men of Genius - dialect
Question
Much of your work was written in the Scottish dialect?
Answer
And with good reason I believe.  I saw the native culture of the Scottish people rapidly disappearing, and I did my very best to rescue it. 

I used the Scottish dialect and brought out Scotland, and all its treasures, as much as possible in everything I did.
You will have observed that some of it is also written in English but with a Scottish dialect. 
Question
Well over 200  years after your death you are much loved and revered as the national poet of Scotland. 

Do you regard yourself as the voice of nobility or of the working man?
Answer
I am the voice of the Scottish people, but remember that I was a working man who lived the greater part of my life in poverty and died in poverty.

I am touched to know that I was held in affection by both rich and poor.
Real Men of Genius – illness and death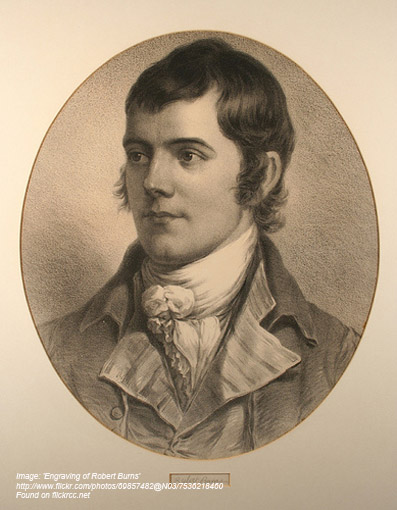 Question
But you had a rheumatic heart condition and before you were very old at all, your health failed you?
Answer
I died at the age of 37 from rheumatic fever which ailed me so often.
Question
At the time of this interview in 2013 you have over 600 living descendants, and in the time that has passed since your death your literature and poetry has influenced millions around the world. 

If you will permit me to say so, that is a phenomenal legacy.
Answer
Thank you.
Keep your eyes open for more Real Men of Genius as they are added to this site and also look at Real Women of Genius for further examples.

Read Modelling Genius and remember also to see where you can identify the talents of these people within yourself.  You will have them all.  You may just need to search a little:
---
Gain FREE access to my self-confidence video
To gain free access to my self-confidence video enter your email address and first name in the box below.  This will also keep you up-to-date with my free newsletter Inspirations.
As a bonus for subscribing you'll receive the first three chapters of my book Towards Success, where you can learn more about NLP techniques, from Anchors to Modelling, and my 50 favourite inspirational quotations.
---
Return from Real Men of Genius - Robert Burns -
to The Secret of Mindpower & NLP Home

---
Return to Site Search & Contents Page
---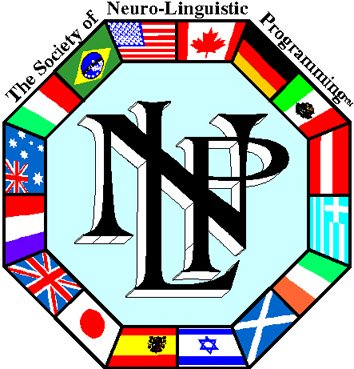 ---