Real Men of Genius
Abraham Lincoln
16th president
Abraham Lincoln takes his place in Real Men of Genius as the sixteenth president of the United States of America.  Born in a one-roomed log cabin, he had a passion for freedom and honesty, was a powerful speaker and faithfully believed that slavery was an evil to be abolished.
Question
You were born, sir, on 12 February 1809.  Would you kindly tell us a little of your family circumstances?
Answer
My father encountered some land difficulties when I was young and we moved to Indiana.  My mother died of milk sickness when I was just nine.  My sister, Sarah, looked after me until father remarried.  Sarah was just a young lady when she died in childbirth.
Question
You married in 1842?
Answer
Yes, I married Mary Todd and we had four sons, three of whom died and it grieved us greatly.  It was something we never got over.
Real Men of Genius – self-educated
Question
We understand you were largely self-educated?
Answer
I didn't have what you would these days describe as a formal education, just a few lessons from itinerant teachers, but I obtained whatever books I could and read and reread them.
Question
And you turned to the law?
Answer
In 1831 I had moved to Salem, Illinois, where I worked as a storekeeper, surveyor and postmaster.  It was there that I studied for a law degree which I acquired in 1836.  I also developed an interest in politics.
Real Men of Genius – election to Congress
Question
You were, of course, well known for your speeches.  When were you elected to Congress?
Answer
That was 1847.  I tried unsuccessfully for the Senate in 1855 and 1858.
Real Men of Genius – against slavery
Question
You strongly disapproved of slavery?
Answer
Indeed, I did.  By the 1850s it had been generally outlawed in the Northern states but not in the South.  I frequently spoke against it and I hated it not only because of the monstrous injustice of slavery itself but because it deprived our republican example of its just influence in the world.
Question
In 1860 you were elected as 16th president.  That could be described as a catalyst in the "war" against slavery, couldn't it?
Answer
Well, yes.  I was elected because of the support I received in the North and West.  I won only two of the very many counties in the Southern states.  But I received over 1.8 million votes and won decisively in the electoral college.
Real Men of Genius – secession of the Southern states
Question
Within a month of your election South Carolina declared its secession from the United States?
Answer
That is so, and by early 1861 it was joined by Mississippi, Alabama, Florida, Georgia, Louisiana and Texas.  Together they formed the Confederate States of America and elected Jefferson Davis as their president.
They drew their own constitution and, although it was based on the constitution of the founding fathers, it contained safeguards for slavery.
Question
And war broke out?
Answer
That was when I decided to resupply Fort Sumter and the confederacy took the decision to open fire upon it.  Positions hardened and it was necessary to launch a recruiting campaign.
Virginia then voted to secede from the Union and North Carolina, Arkansas and Tennessee followed.
Real Men of Genius – Emancipation Proclamation
Question
The first couple of years of civil war saw neither side gain any real advantage over the other, it seems?
Answer
It was at that stage that I proclaimed emancipation, although I had proposed it some time earlier.  Slavery was banned on all federal territory. Measures were afterwards taken to free all slaves in the Confederate states.
By the spring of 1863 I was hopeful that we could end the war before long.  As we moved South more black slaves were liberated and soon General Thomas had recruited 20 regiments of black soldiers.
Question
And it was in 1863, I believe, that you fixed the Thanksgiving holiday?
Answer
It had been a regional holiday in England since the 17th century and, before my presidency, federal government had proclaimed the holiday on irregular dates.  It hadn't been proclaimed for 50 years. 
I declared that the last Thursday in November to be a day of Thanksgiving, and I believe it has remained that way ever since.
Question
It is right to say, isn't it, that after the Emancipation Proclamation over 180,000 black men served in the Union armies?
Answer
I might add that black regiments such as the 107th Colored Infantry and the 54th Massachusetts Infantry distinguished themselves in the field of action.  This was in spite of the fact that the Confederate orders were that all black officers were to be put to death on capture.
Question
And a large number of them lost their lives whilst fighting?
Answer
Around 66,000 of those gallant men.
Real Men of Genius - Gettysburg
Question
Then came the battle of Gettysburg?
Answer
There was a resounding victory for the Union army and a turning point.  I asserted in my address at Gettysburg that the nation was born in 1776, conceived in liberty and dedicated to the proposition that all men were created equal. 
The deaths of so many brave soldiers would not be in vain, slavery would end and the future of democracy assured.
Question
And soon afterwards, following the failure to capture General Lee's army as it retreated from the Gettysburg, you appointed General Ulysses Grant as head of the Union army?
Answer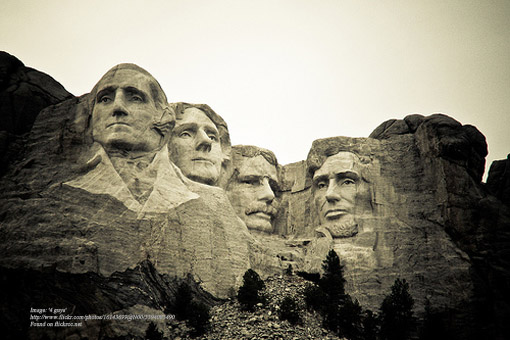 That is right.  In the coming months there were very heavy losses on both sides.  I was re-elected president in November 1864.  Sherman took Georgia in the May and by the time of my re-election had cut through the heart of Georgia.
In February 1865 Sherman reached Columbia, the South Carolina state capital, which he razed and by March he was in North Carolina.
Real Men of Genius – General Lee's surrender
Question
Then Lee was forced to surrender Petersburg to Grant?
Answer
Yes; Richmond could no longer be defended and it was evacuated.  The Union troops and I moved in shortly afterwards.
Question
And then the final surrender?
Answer
Lee was no longer able to continue the war and he met Grant at Appomattox Court House to discuss terms of surrender.  Grant offered generous terms, and Lee's men were disbanded and permitted to go back to their farms.
Real Men of Genius - assassination
Question
On 14 April 1865 you attended Ford's Theater, and that is where you died?
Answer
Almost; it is certainly where I was shot.  My bodyguard left the theater during the intermission and, whilst I was sitting in the state box in the balcony, John Wilkes Booth crept up from behind and shot me in the back of the head.
I was attended by an army surgeon, taken across the street to Petersen House and died nine hours later.
Keep your eyes open for more Real Men of Genius as they are added to this site and also look at Real Women of Genius for further examples.

Read Modelling Genius and remember also to see where you can identify the talents of these people within yourself.  You will have them all.  You may just need to search a little:
---
Gain FREE access to my self-confidence video
To gain free access to my self-confidence video enter your email address and first name in the box below.  This will also keep you up-to-date with my free newsletter Inspirations.
As a bonus for subscribing you'll receive the first three chapters of my book Towards Success, where you can learn more about NLP techniques, from Anchors to Modelling, and my 50 favourite inspirational quotations.
---
Return from Real Men of Genius - Abraham Lincoln - to
The Secret of Mindpower & NLP Home 
---
Return to Site Search & Contents Page
---