Real Men of Genius
Michelangelo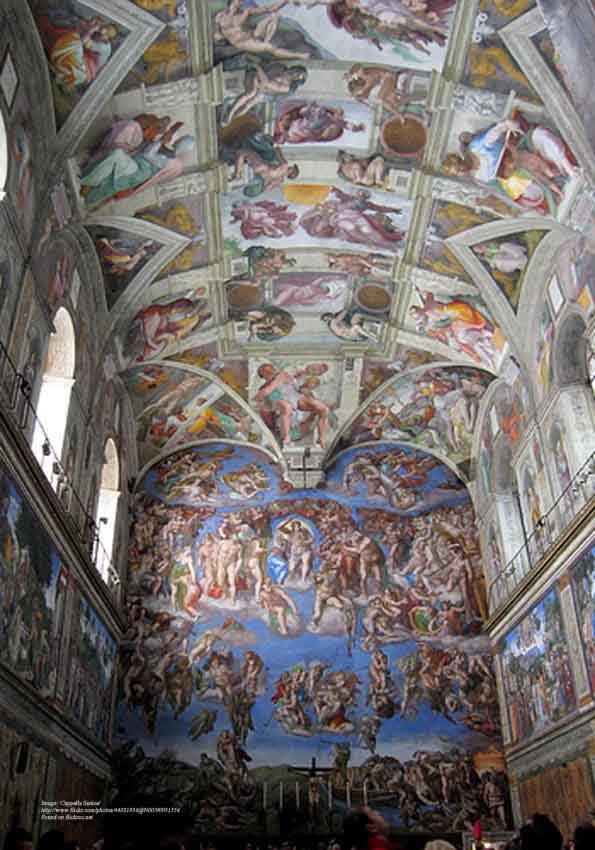 Another Real Men of Genius Renaissance man to figure in these interviews is painter, sculptor, architect and poet, Michelangelo. Leonardo da Vinci was just 23 years old when Michelangelo was born.
Although he did not regard himself as much of a painter, he is hailed as one of the greatest artists ever.
Early years
Question
Michelangelo Buonarroti, you are from Tuscany, aren't you?
Answer
Yes, I was born on 6 March 1475 in Caprese where my father was governor.  My mother suffered a lengthy illness and died when I was 6 years old.
Question
And I believe you were sent to a nurse in Settignano, which was a village of stone cutters?
Answer
This is where I obtained my love of stone.
Question
What about schooling?
Answer
My father wasn't impressed initially because although he sent me to study grammar, I preferred instead the company of painters and I was frequently in trouble when I took drawings and paintings home because they were not considered gentlemanly.
Real Men of Genius - apprenticeship
Question
Nonetheless, I think your father agreed to your apprenticeship with Ghirlandaio?
Answer
Yes, I was even paid for it.  It was there that I learned the Tuscan wall painting fresco technique which I later used on the ceiling of the Sistine Chapel. 
Question
Where did you study sculpting?
Answer
With Bertoldi di Giovanni.  He ran a studio in the garden of the Medici Palace and was in charge of Lorenzo de Medici's collection of antique sculpture.  Lorenzo was the leading patron of the arts in Florence.
Real Men of Genius – Madonna of the Stairs

Question
Did you learn Donatello's carving technique there?
Answer
Yes, but the only time I used it was when I carved Madonna of the Stairs, a small marble relief.
Question
I think there was a setback when Lorenzo de Medici died in 1492?
Answer
I returned to my father's house at that time. There was some political turmoil in Florence for a while afterwards.
Real Men of Genius - Bacchus
Question
You returned for a while, didn't you, and undertook some work, but in 1496 you went to Rome?
Answer
Yes, Jacopo Galli commissioned me to carve the figure of Bacchus. 
Real Men of Genius - Pietà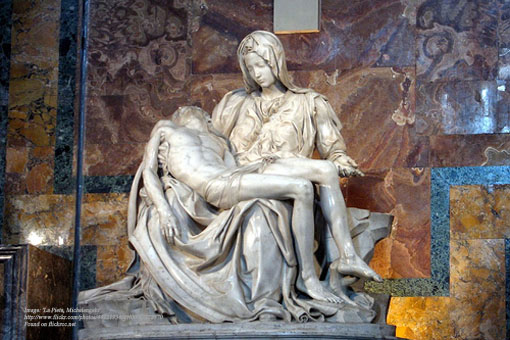 Question
And you were only 24 in 1498 when you accepted the commission for the Pietà?
Answer
It was at this time that I started the practice of choosing marble from the quarries.  The Pietà is the only one of my works which I personally signed.  You will see the signature on the strap that crosses the Virgin's breast.
Real Men of Genius - David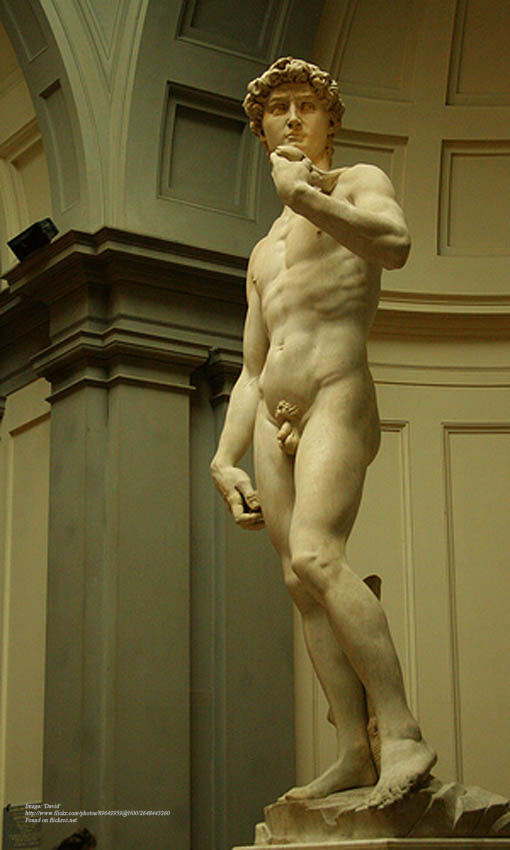 Question
And then it was back to Florence for one of your greatest works?
Answer
I think you must be referring to David.  I returned to Florence in 1499 and started work on David.  It had been intended for the buttress of the cathedral.  I used a spoiled block that had been left in the open for 40 years after it had been abandoned.
My work was much admired by the citizenship, and it was decided instead that it should be placed next to the principal entrance to the Palazzo Vecchio.  It became the symbol of Florence.
Question
What happened after that?
Answer
I was invited back to Rome by Pope Julius in 1505 to build his tomb.  However, he constantly asked me to do other things and because of the many interruptions, I spent 40 years on it and it wasn't finished to my satisfaction then.
Real Men of Genius – Sistine Chapel
Question
It led to arguments, I hear?
Answer
So much so that I left for Florence but I was recalled to fresco the Sistine Chapel which I began in 1508 and finished in 1512.
Question
Tell us more about that astonishing work, please.
Answer
There was some discussion about the precise form it was to take and the design originally was meant to be a much simpler portrayal of the 12 apostles, but eventually it was to describe episodes of the Creation.
I completed the eastern half of the chapel in 1510 and it took a further two years to finish the western half.  It contains 300 figures.  You will see portrayed from the book of Genesis God's Creation of the Earth, His creation of Mankind and the fall from grace and the state of Humanity represented by Noah and his family.
Question
I think you have really just touched on the intricacy of the work.  It must have been back aching to undertake a commission of that stature for so long?
Answer
It was incredibly taxing.  For years I had to paint almost doubled over and upside down. At times it was sheer bodily torment.  I was 37 when I completed the ceiling.
Question
And it is said that you although this has been recognised as a supreme work of art, and you the greatest living artist, you did not regard yourself as much of a painter?
Answer
That is correct; sculpture is the foremost art.
Real Men of Genius – The Last Judgment
Question
Pope Clement commissioned that massive work, The Last Judgment, that spans the whole wall behind the altar of the Sistine Chapel.  How long did that take you?
Answer
That took me seven years.  Unfortunately, some felt that the naked depictions of Christ and the Virgin Mary was sacrilegious and, after I died one of my pupils was asked to cover over the more sensitive parts. 
That, of course, isn't the only work of mine that was tampered with in order to satisfy the sensibilities of a few.
Real Men of Genius – St Peter's
Question
Then you became the chief architect of St Peter's?
Answer
Yes, I was 71 when I started work on that.  I designed the dome.
Question
You weren't always satisfied with your work, I understand?
Answer
No, there were many times that I felt I had to destroy it and start again.  The important thing is not to give up, and in the final years of my life I continued with my sculpture, painting and architecture.
Question
Even those wonderful works did not represent everything you did, because there was also your poetry, wasn't there?
Answer
That is so.  I wrote sonnets and madrigals, over 300 of them in fact.
Question
You died shortly before your 89th birthday?
Answer
Yes, just three weeks before and that was in Rome.  My last request to be taken back to my beloved Florence was fulfilled, and my remains interred at the Basilica of Santa Croce.
Keep your eyes open for more Real Men of Genius as they are added to this site and also look at Real Women of Genius for further examples.

Read Modelling Genius and remember also to see where you can identify the talents of these people within yourself.  You will have them all.  You may just need to search a little:
---
Gain FREE access to my self-confidence video
To gain free access to my self-confidence video enter your email address and first name in the box below.  This will also keep you up-to-date with my free newsletter Inspirations.
As a bonus for subscribing you'll receive the first three chapters of my book Towards Success, where you can learn more about NLP techniques, from Anchors to Modelling, and my 50 favourite inspirational quotations.
---
Return from Real Men of Genius - Michelangelo - to
The Secret of Mindpower & NLP Home 
---
Return to Site Search & Contents Page
---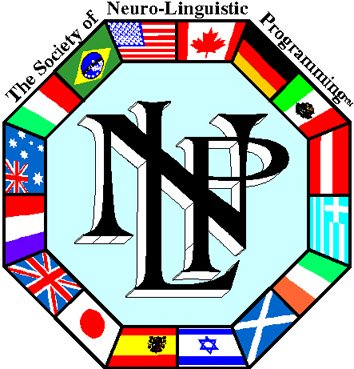 ---