Stephen Covey

7 Habits
7 Habits
Stephen Covey 7 Habits is shorthand for The Seven Habits of Highly Effective People written by Stephen R Covey that has now sold over 25 million copies worldwide.

I had the great honour of meeting him in London just a couple of years before his death, and he was a truly humble but inspiring man.

---
The most important ingredient we put into any relationship is not what we say or do, but
what we are
Stephen R Covey
---
Dr Covey, who died in July 2012 following a cycle accident a couple of months earlier, held an MBA from Harvard and a doctorate from Brigham Young University. 
Stephen Covey 7 Habits was named the No 1 most influential business book of the 20th century.
He was an amazing man who, by his lifetime contribution, left the world a better place than he found it.

He wrote many other books and was the co-founder of FranklinCovey, a global education and training firm with offices in 147 countries.
7 Habits – Paradigms
In common with other self-help gurus, Stephen Covey identifies our personal paradigms as our limiting factors. By affecting the way we interact with others, they also affect the way others interact with us.

So before we do anything else we need to understand our own paradigms. We must first free ourselves from our dependency on others.
Be Proactive
The first of the Stephen Covey 7 Habits is to be proactive. That is to say, we must take responsibility for our own conduct.

It is essential that we do not attribute our behaviour to our circumstances or conditions.

No matter what it entails by way of hard work or disturbing our personal comfort zones, we must respond in a way that makes us feel proud.
Begin with the end in mind
We must, says the second of the Stephen Covey 7 Habits, have a clear understanding and vision of the result we want to achieve with whatever we undertake.

It seems strange to think that so many of us set out on our objective without ever having a clear idea of what it is that we actually want.

We are not likely to accomplish it at all if when we begin we do not have the end in mind. Once we know what it is we want, we can ask the right questions and decide accordingly.
Put first things first
Once you have become independent, you must use your time to follow your most important goals effectively and thereby increase your effectiveness with others around you.

The third of the Stephen Covey 7 Habits teaches us to take control, remain disciplined and focus on the most important activities. They are not necessarily the most urgent activities.

These are the principles of personal management. Dr Covey says that rather than squeeze in important activities at the last moment or risk delaying or missing them, they should be done now.

Important activities, according to this principle, include building relationships, writing a personal mission statement, making long term plans, exercising and preparing for next week's presentations.
Think win-win
Win-win is a frame of mind. It is another demonstration of the law of abundance – that there is enough for everyone.

It means working towards a mutually beneficial solution or agreement. It is not necessary, says Dr Covey, to think in terms of strong and weak, win or lose; we can instead work together to achieve a result which is not at the expense or exclusion of others.
Seek first to understand, then to be understood
How many times have you turned up at a meeting determined you will have no nonsense from anyone else, you'll get your point across firmly and make them listen to you?

And then, when you have set out the way you see it, you are faced with stony and impenetrable faces and you know the point hasn't sunk in?

This fifth of the Stephen Covey 7 Habits encourages you to stand back and let the others speak first. Let them talk and talk until they are satisfied that you fully understand their point of view. 
All this time you mustn't interrupt. While you are listening, you are doing your very best to understand exactly what their beliefs and arguments are.

Only when they are satisfied that you understand them, do you make your personal contribution to solving the problem.
Syngergise
The sixth of the Stephen Covey 7 Habits encourages you to open your mind, to be creative and receptive to new ideas.

It teaches you to value the differences and to build upon them for the common good rather than treating them as divisions to be overcome. By building in this way you are able to resolve conflicts.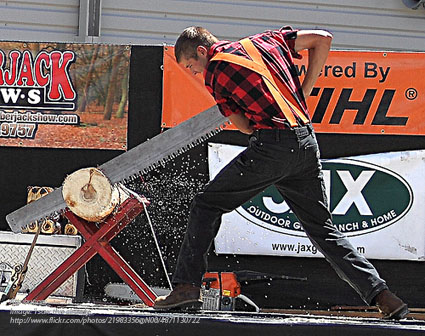 Sharpen the saw
A Canadian and a Norwegian competed against each other in a tree-felling competition which was to start at 8 in the morning and finish at 4 in the afternoon. Whoever felled the most trees would win.

They started punctually and could hear each other trading blow for blow. Then at around ten minutes to 9 the Canadian was aware that the Norwegian appeared to have stopped.

The Canadian carried on and at 9 o'clock realised the Norwegian had begun felling trees again. At 10 to 10 the Canadian was aware that the Norwegian had stopped again but he resumed at 10 o'clock. 
Every hour followed the same pattern. At ten to the hour the Norwegian stopped but resumed on the hour. The Canadian continued.

When they both finished at 4 o'clock the Canadian was convinced he had won by a long stretch but was dismayed to find that the Norwegian had felled more trees than he had.
"How was it," said the Canadian, "that you stopped for ten minutes every hour but managed to cut down more trees than me?" "In those periods" replied the Norwegian, "I was sharpening my axe."

So the seventh of the Stephen Covey 7 Habits encourages us never to rest on our laurels but to be eager and willing to explore new pastures, sharpen the saw with continuing education and new experiences, and seek all the time for self-improvement.
Stephen Covey 8th Habit
As well as a number of other titles, Stephen Covey 7 Habits has been followed by The 8th Habit, subtitled From Effectiveness to Greatness.

It encourages you to find your voice and, when you have done so, to inspire and encourage others to find theirs.

The last book to be published shortly before his death was The Third Alternative, Solving Life's Most Difficult Problems.

One of the greatest messages of the 7 Habits, in my view, is that we are free to choose. 
As Stephen Covey writes, this power and freedom stand in stark contrast to the mind-set of victimisation and the culture of blame which is prevalent in society today.

He points powerfully to the fact that between stimulus and response is a space and in that space lies our freedom and power to choose our response. These choices lead to our growth and happiness.
---
Return from Stephen Covey 7 Habits to
The Secret of Mindpower & NLP Home
---
Return to Site Search & Contents Page
---